The Lifestyle Galaxy 2019 International Annual Awards and Gala will be held August 23rd – August 25th at the Cape Town International Convention Centre in Cape Town, South Africa.

This will be the largest Lifestyle Galaxy recognition event ever held. Awardees and members will come from all over the world to celebrate each other.
The first 200 members to register will be given priority seating toward the stage used for entertainment and awards ceremony. To take advantage of priority seating, you should follow the below instructions NOW!
Everyone in attendance must purchase a ticket for this Gala Event and be prepared to present your confirmation code on Friday, August 23rd 2019, at the Registration Table.
You have two options for acquiring your registration code:

• You can login to your back office with steps shown below where you will be able to pay through your e-wallet or with BTC
• You may also contact your Country Leader should you prefer to pay in cash
Steps to register:
Logging into your back office by visiting https://LifestyleGalaxy.com
Then Log In (located on the top right)
Once logged in, click on the Marketing and Sales Tab

Scroll down to the last Subtab option "Annual Worldwide Conference"

Once on the Event Registration page, follow these steps:
Step 1: SELECT PAYMENT METHOD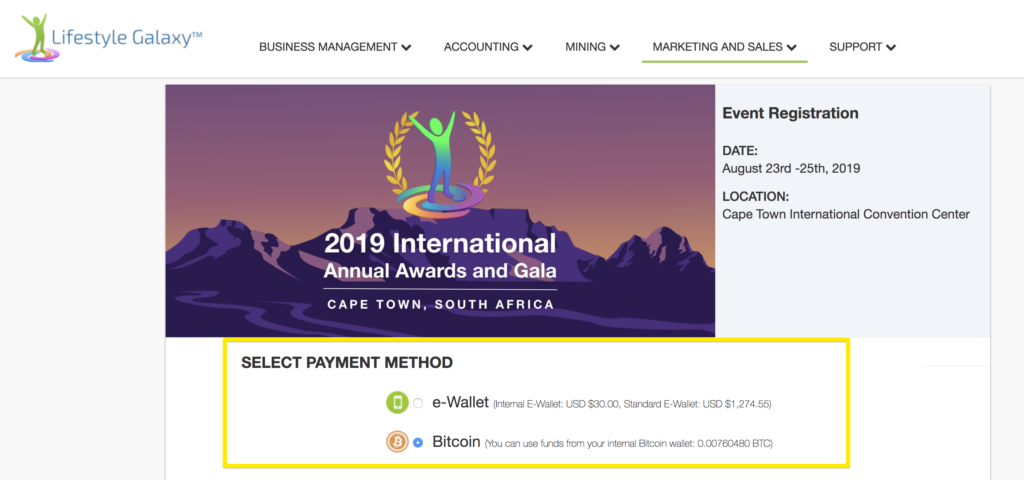 Step 2: PLEASE ENTER THE FULL NAME OF THE PERSON WHO WILL USE THIS DIGITAL INFORMATION CODE AT THE EVENT

You'll notice there are MAJOR DISCOUNTS when you purchase more than one Event Code.
Step 3: SELECT CONFIRMATION CODE TO PURCHASE?

Select your quantity amount and Click on BUY NOW
You will receive your 5-digit registration number upon completion. Please make sure that you keep this number.
Your ticket will look something like the example below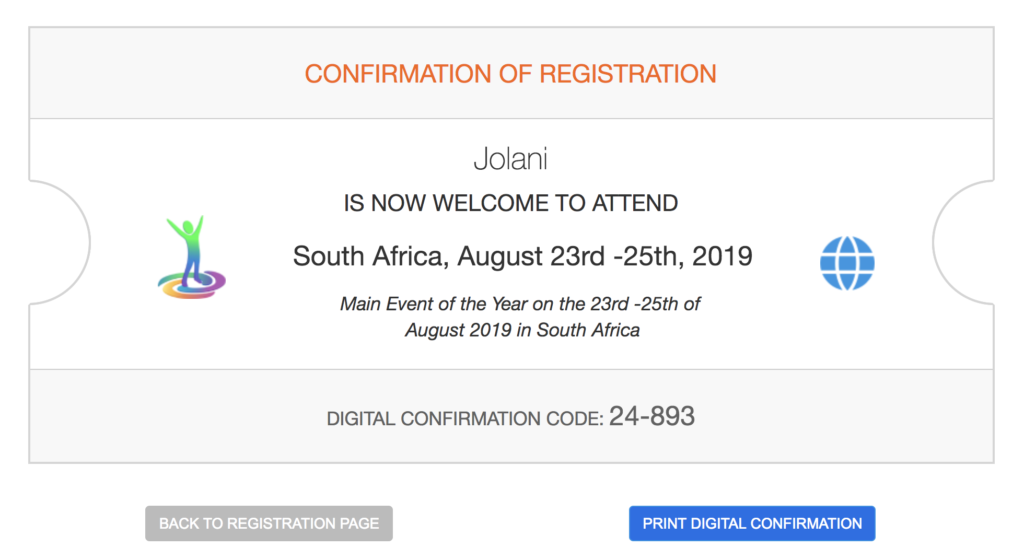 Register for our most spectacular event of the year!