Five Major Benefits for Bitcoin and Bitcoin Cash Mining in One promotion!
1. Galaxy Mining is about to open mining with new Bitcoin Mining hardware, a major upgrade over previous models with Energy Savings and much greater hash power!
These newer more optimised miners means much larger rewards, providing many times greater mining rewards compared with the last generation of Bitcoin miners!
This is due to the difference in electricity usage versus mining power.
Because these new Bitcoin miners take far less in costings, they are able to provide a considerably greater ratio of rewards that each of the miners are able to keep.
This is why there is such a huge difference in rewards.
2. These miners will be placed in our Next Generation Fully Company Controlled Mining Facilities. There will be many special benefits to this revealed.
3. Secret Sauce: As an innovative company, Galaxy Mining is proud to present the Multi-Bitcoin Mining Switch! This "secret sauce" technology allows flexibility of choice, instantly changing between mining Bitcoin (BTC) or Bitcoin Cash (BCH), whenever the miner desires! We're able to do so because of new innovations in technology that was created and optimised for the new facility.
4. Fast deployment time (Limited time offer): The deployment of a limited amount of this new equipment to be deployed in just 25 days time!
5. In addition to all of the benefits above, each of our product packages will give you the greatest value for any Bitcoin mining hardware that we've ever offered.
Additional Bonus Point:
6. Kindness towards our recent purchasers: In order to be very generous to all of our members who made a recent purchase of Bitcoin Mining Hardware, all members who purchased Bitcoin mining equipment in the last 60 days will be receiving the equivalent contract size with S15 mining equipment.
Important: Due to a limited supply of our new Bitcoin Mining Hardware, Miners will be available for a limited period of 30 days starting immediately on 8th March 2019. Further good news is that the usual 60 day deployment time will dramatically decreased to just 25 days, during this limited time.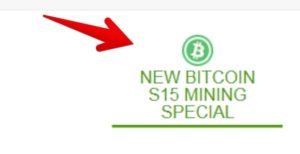 All value club members can take advantage of this offer NOW by clicking on the 'New Bitcoin S15 Mining Special" button under the Mining -> Purchase Mining Hardware menu.